Step into our Christmas decorated coffee cottage, into a bygone era and experience an atmospheric advent with home baked Christmas cakes. Crepe paper garlands hanging from the beams and little brownies and angels have taken their places.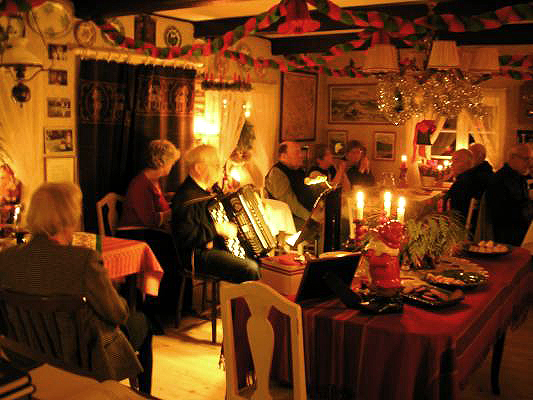 We provide entertainment to the coffee, first and third Sunday of Advent, all according to tradition.
1st Sunday of Advent, we sing Christmas songs and evergreens together with Ingvar & Bengt.
They starts to play in the barn at 14:00 to 15:00. You can book a table at 13:00 in the barn for the first seating.
For the second show you book your table at 15.15 and they will start to play at 15.30 for 1 hour.
4th Sunday of Advent after a walk over the Rönnen, or you might have cut down your Christmas tree, you are welcome in to our warm cottage to feel the scent from the Christmas cakes and get away from the stress and enjoy the lighted candles and a cake buffet with nine kinds of Christmas cakes.
We are open Saturdays and Sundays between 13.00 -17.00, during 30/11 – 22/12. After Advent dozes Albertsgården off and re-open the first weekend in March.